back to Blog page
Announcement: Bamboo custody with Fireblocks.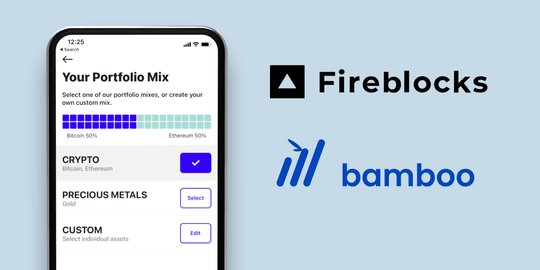 Investment platform Bamboo has moved to a custody solution via their partnership with Mine Digital Exchange.
Mine Digital, one of Australia's most innovative digital asset platforms, use Fireblocks to custody their assets, in a deal that will ensure all digital assets held by Bamboo will be safely stored to the highest possible standards.
Fireblocks is one of the world's leading providers of crypto custody, with multi-layered security, regular penetration testing and cutting edge technology that leads the charge when it comes to digital asset custody.
As digital currencies continue to penetrate the world of mainstream finance, custody is becoming a critical element of the industry. Major financial institutions like Germany's Deutsche Bank, Switzerland's BBVA, and U.S. banks BNY Mellon and State Street have all recently added crypto custody solutions to their list of services. Even the world's leading online payments gateway PayPal recently acquired a crypto custody provider to facilitate the processing of digital currencies on its platform.
The sudden interest comes in lieu of improved regulations by several nations which now allow traditional banks to offer crypto custody to their clients. To meet the demand, several crypto custody providers are rapidly expanding into the commercial sector, offering Enterprise-level solutions to financial institutions. Despite being a relatively new firm, Fireblocks has quickly grown to become one of the world's leading providers of digital asset custody.
The Fireblocks Solution
Founded in 2018 by three ex-employees of popular cybersecurity firm Checkpoint, Fireblocks now provides crypto custody to over 230 clients worldwide. With offices in the US, UK, Hong Kong, Israel, Singapore, Switzerland, France, and Germany, the company has processed over $815 billion in digital asset transfers since its inception.
It's rapid growth and popularity is driven by an exceptionally strong team of highly motivated individuals, dedicated to improving the overall image of cryptocurrencies within the financial sector. Some of it's most well-known clients include Crypto.com, Galaxy Digital, Genesis, BNY Mellon, and LedgerPrime, to name a few.
Fireblock's has been recognized by Microsoft as a Security Trailblazer with a nomination for it's 20/20 award. The firm was also listed on Forbes' Fintech 50 list for 2020 as one of the most innovative companies in its industry.
Features
Fireblocks offers an all-in-platform, designed to provide businesses with several additional features beyond just crypto custody. These include 24/7 on-chain settlement, wallet infrastructure that is 8x faster than average, quick and easy asset tokenization, and a deposit acceleration program. For clients using Ethereum ERC-20 tokens, Fireblocks provides an Ethereum Gas Station to maximise operational efficiency with automated refueling and pre-set caps.
Fireblocks is currently supported by all major cryptocurrency exchanges, including Binance, Coinbase, FTX, BitFinex, BitMEX, Gemini, Kraken, and OKEx, amongst others. It also supports trading, lending, and staking on the Binance Smart Chain (BSC).
Security
With over $15 billion in digital assets stolen by hackers over the past 8 years, strong security is paramount to any firm dealing in cryptocurrency. The Fireblocks lead team has over 20 years of combined experience amongst them along with a wealth of cryptography advisors helping to secure their multilayered defense system.
In 2019, Fireblocks was granted its SOC 2 Type II security certification by accounting firm Ernst & Young. The company conducts regular penetration tests as part of its security policy and has developed a free multi-party computation algorithm (MPC-CMP) that drastically improves transaction speeds in a safe manner.
In addition, Fireblocks has full AML Compliance and has partnered with Coincover and Genesis Custody to provide disaster recovery services in the event of lost devices or service interruption.
Funding
In November 2020, Fireblocks conducted a Series B funding round led by Venture firm Paradigm which received $30 million in investments from top cryptocurrency firms like Galaxy Digital and the Digital Currency Group (DCG). The round also saw Paradigm co-founder Fred Ehrsam join the board of directors.
Fireblocks recently raised a further $133 million in a Series C funding round that included investments from Silicon Valley Bank (SVB) and the world's largest custodial bank, BNY Mellon. Fireblocks is now working with BNY Mellon to build the firm's Bitcoin custody solution.
We are excited to grow our partnership with Mine Digital and we are looking forward to working with Fireblocks.
If you have any questions, please feel free to reach out to us at support@getbamboo.io
The latest crypto news delivered straight to your inbox.