back to Blog page
Best Crypto Wallets in Australia – 2022 Reviews & Comparison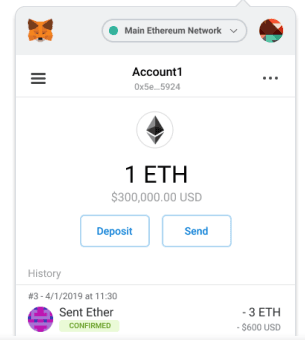 A cryptocurrency wallet is essential for anyone looking to buy, sell, transfer, and most importantly safely store crypto.
There is a huge variety of software and hardware wallets, often called "hot wallets" and "cold wallets" and it can be overwhelming deciding which is best for beginners.
Each of these crypto wallets have their purposes, but in general their aim is to give you control over the private keys and therefore control over the security of your crypto.
It may be tempting as it's easy, but it's not recommended to keep your digital assets on crypto exchanges in their custodial wallets which you don't really control.
Whilst most crypto exchanges have implemented cold storage for users' crypto assets with wider adoption, they do not provide a secure environment and are not a good option for crypto storage.
Best crypto wallet Australia for 2022:
Below are our quick recommendations for the best cryptocurrency wallets in each category, but read on, as there are many crypto wallets available depending on your needs.
Trust Wallet – best for beginners and overall best crypto wallet in Australia 
Ledger Nano S Plus - best hardware wallet
Coinbase Wallet - best desktop and mobile wallet combo
Electrum - best Bitcoin wallet
MetaMask - best DeFi wallet
Why do I need a crypto wallet?
Cryptocurrency is a unique asset where an individual who buys some can retain complete control over it.
See, when you deposit money into your bank account, whilst it's still "yours" the bank is the custodian and can, in extreme economic circumstances, stop you from being able to access your money if they thought it was best for the bank.
On the other hand, if you have cash and put it in a safe, there is no custodian and it's very hard for anyone to stop you accessing and using it if you need to.
Cryptocurrency wallets have the same principle and give you control over the public and private keys which are the wallet address where crypto can be sent and the 12-24 words used to gain access to the wallet respectively.
If you're interested in keeping your crypto safe in your own control and under your own custody then you'll need a crypto wallet.
Does it matter what wallet I use?
Yes, you need to use reputable wallets with great security features for the safe storage of your crypto, there are many hacks and scams and nobody can help you if something goes wrong.
There are many wallet types, be it cold storage wallets, hot storage wallets, web wallets, mobile wallets, a paper wallet, one can even be made from a USB stick, so there are plenty of options out there.
Which one you use will vary depending on your needs, but it's not uncommon to use multiple wallets, with each serving a different purpose.
Most use a software wallet to keep a small amount in for day to day transactions, whilst a hardware wallet would be used for offline storage for longer term investing.
"Cold wallet", "hot wallet", what does that mean?
These terms are shorthand for how crypto wallets work generally and refers to the types of wallets that are available.
Cold Wallets
A cold wallet refers to a crypto hardware wallet, these are real-world physical devices which sometimes look like a USB drive with the sole purpose of generating and storing your private key offline.
Digital currency is always stored online, but using a cold wallet means someone will have to gain physical access to the device and know its password or PIN-code to be able to make a transaction.
This makes it the safest crypto wallet type and the best option for those serious about the security of their digital assets.
Hot wallets
On the other hand, most wallets you'll come across are hot wallets, which are any wallet that generates and stores the private key online or on an internet connected device.
Software wallets can still be secure given the proper security protocols like never connecting it to any unknown websites, never sharing or storing the private key online, and enabling security features like a password and two factor authentication if available.
Best crypto software wallets
Trust Wallet
Trust Wallet is a noncustodial wallet, meaning users have total control over the private key – the 12 to 24 words generated when a new wallet is created – meaning total control over their crypto.
It is a mobile wallet with apps for iOS and Android mobile devices, but can also be downloaded on compatible Apple Macs at zero cost.
This definitely has its shortcomings, mainly that as it has no internet browser extension, it can't be used for things like decentralised finance (DeFi) applications.
For beginners to crypto wallets though this can be seen as a positive as connecting a wallet to any DeFi application can potentially put user funds at risk, this doesn't mean it's as safe as an offline wallet, however.
The user interface is simple, clean, and has good security features like a pin code and biometric lock. It can store Bitcoin and over 1 million other cryptocurrencies, along with Ethereum and BNB Chain non-fungible tokens (NFTs).

Trust Wallets UI really matches Apple's, so will feel very natural to iPhone users. Source: Trust Wallet
Users can purchase or exchange crypto and stake it from within the app too, transaction fees for buying crypto varies between 1% to 5% depending on the method used.

As with all so-called "hot wallets" they are made for convenience, and user funds can be put at risk if they have lax security measures.
There is no customer support for fund recovery if the phone and private key is lost. If a user is the victim of a social engineering attack where their pin, biometrics, or private key is compromised, attackers could use the app to send funds which cannot be reversed.

Overall, the ease of use, easy user interface, bonus features, and good user reviews makes Trust Wallet a great choice and the best cryptocurrency wallet for starting out.
Coinbase wallet
Coinbase is a large and beginner-friendly crypto exchange and its software wallet is no different, this is again another hot storage wallet where users retain their private keys, so the same security vulnerabilities apply as before.
Much like Trust Wallet, Coinbase wallet can store NFTs, has an in-app decentralised application (dApp) browser, and supports Bitcoin along with thousands of other cryptocurrencies.
A point of difference though, Coinbase Wallet is available as a desktop app browser extension too, so it can be used on multiple devices and connected to dApps also.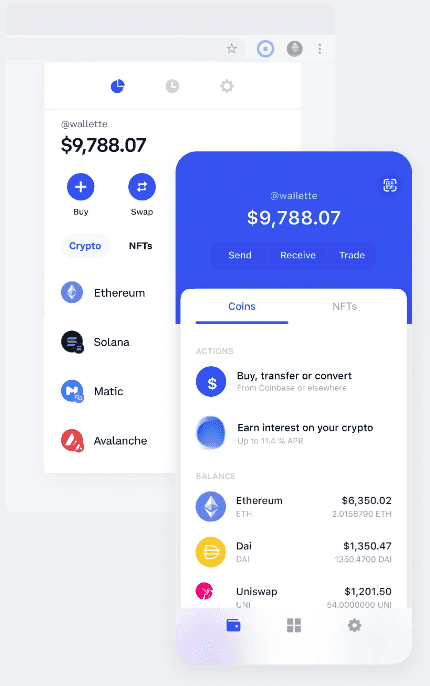 Interface of the desktop (top) and mobile (bottom) wallets. Source: Coinbase
Users who have a Coinbase account can link to their wallet to stake, transfer, exchange or buy Bitcoin and other cryptos, although this isn't necessary to access those features.
MetaMask
MetaMask is one of the most used and well recognised crypto wallet provider in all of DeFi, this is again a hot wallet with a mobile wallet app and web wallet.
It works very much the same as others on this list, but this wallet supports a huge variety of blockchains including both mainnets and testnets and the software can actually create and host multiple wallets.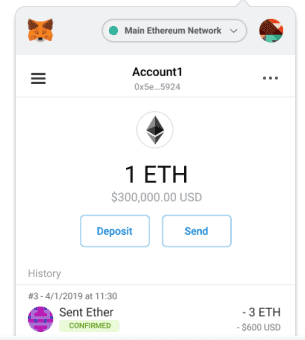 The browser extension even has its fox symbol look at and follow your cursor around the screen before you login! Source: MetaMask
A big drawback of MetaMask is that it is a pure DeFi wallet so a Bitcoin wallet cannot be created, it's also not great for beginner users as it has so many advanced features but its proliferation as one of crypto's most used wallets deserves a mention on this list.
Best crypto hardware wallets
Before we get into hardware wallets, it needs mentioning that a lot of debate exists around which hardware wallet has greater security or is the most secure, or what the best wallet is overall.
The two titans of hardware crypto wallets are Ledger and Trezor and each have their advantages, but overall these cold wallets will give you full control over your cryptocurrency, both are user-friendly and both have your private key stored offline.
It is true, Ledger had a marketing database breached which could put its users at risk, but Trezor also recently suffered from a phishing attack scam in its newsletter.
What matters is each offers a highly secure wallet and the best cold wallet is the one you own.
If you are concerned about owning a Ledger or Trezor given past security breaches we will detail some other options for you below.
It's important that when your buying a hardware wallet to buy it directly from the manufacturer or via an approved and official reseller listed on the website. 
Never buy a used or refurbished crypto wallet or one from a seller not listed as an official reseller as they may be compromised. Almost all will come in with plastic shrink-wrap, if the wallet arrives and the packaging is open or otherwise tampered with, return it immediately.
Ledger Nano S Plus
The Ledger Nano S Plus is a contender for the best crypto wallet and is the latest hardware wallet to hit the market.
The reason we chose this is because of it's relatively low price point for the features it has available which are almost on par with Ledger's premium model, the Nano X.
Coming in at around $150, the S Plus is much more affordable than its big brother, Ledger Nano X which has a cost of $250, but has pretty much the same features when comparing them side by side.

It's about the same size as a USB, so can easily be hidden, and yes, the Ledger logo really is upside down when you use it. Source: Ledger
Really the main difference is if you're wanting Bluetooth compatibility with mobile devices and an inbuilt battery, then go with the Ledger Nano X.
Up to 5,500 cryptocurrencies are compatible with the S Plus and the USB drive looking device plugs into a computer for use with the wallet software platform called Ledger Live, which basically has its own crypto exchange, Ledger Live also has a mobile app.
Users can swap, sell and purchase crypto from the desktop app and a select few cryptocurrencies can be staked securely from the wallet too.
It's one of the best crypto wallets due to its great security features, every action like sending, receiving, selling or creating a new wallet requires the user to input a password, making this a very secure storage method.
Again, with this being a noncustodial wallet customer support is limited but they have great support documentation for common issues on their website.
Ledger is also coming out with a Visa card soon, which could be interesting if you're into looking at using your crypto for purchases whilst keeping it secure in a cold storage wallet.
Trezor Model T
There are two Trezor wallets, the Model T and the Trezor One, the Model T is the more expensive option, coming in at a cost of $415 compared to a cost of $145 for the Model T.
The reason to prefer the Model T is simply because, like the Ledger models, all the PIN or password input happens on the device.
One of the biggest advantages is this provides much greater security compared to the Trezor One where the password input happens on a computer or compatible Android devices as there currently isn't support for Apple iPhones.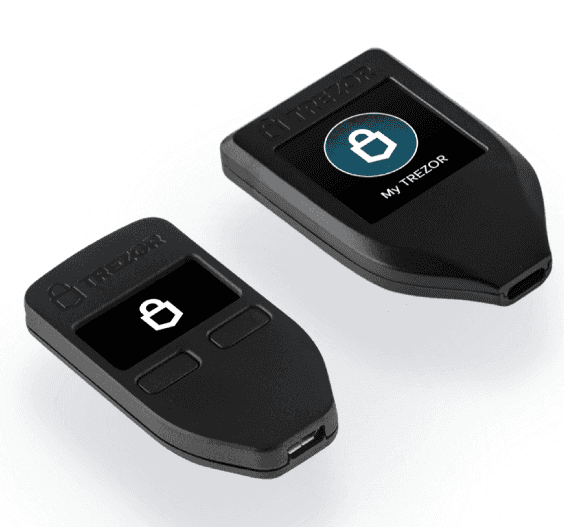 Side by side, the Trezor One (left) and the Model T. Source: Trezor
Trezor owners get access to the Trezor Suite, a similar wallet software platform to Ledger Live where they can exchange and buy crypto along with managing their accounts. 
The Model T can only support 1,816 cryptocurrencies, which is a lot less than some other wallets on this list, but more than other hardware wallets in the market.
Unfortunately, there isn't anywhere from within the Trezor Suite that users can stake their crypto assets to earn more, like there is with other wallets that are similar.
An extra feature for Trezor owners is that the software also comes with a password manager, a must to keep account logins secure.
Best Bitcoin wallets
Most cryptocurrency wallets are what are known as multi currency wallets which can store a variety of coins and tokens, but the following wallets are only for Bitcoin transactions and storage.
A word of warning: Sending any other digital currency to a wallet address that only hosts Bitcoin will mean it's lost forever, as any transactions on the blockchain can't be reversed.
Electrum
Electrum is one of the oldest and most well known pure Bitcoin wallets dating back to 2011, just two years after Bitcoin was created.
Not much has changed since it was first launched and unlike most crypto wallets today, doesn't really have a clean and user-friendly interface. Electrum also doesn't have a mobile app and is one of the few remaining pure desktop wallets.
The Electrum wallet is definitely for those looking for more complex options which sometimes aren't available with other Bitcoin wallets.
What it lacks in beauty it definitely makes up for with features, which is why it's still considered one of the best Bitcoin wallets even after 11 years, users can create security protocols like two-factor authentication or create a multi signature wallet.
Other features include the ability to set custom transaction fees, elongate private keys to include custom words and if you have an old computer lying around, even create cold wallets if they're kept offline.
Coldcard
The Coldcard is one of the contenders for the title of best bitcoin hardware wallet due to the lengths the team at CoinKite have gone to make this product secure.
Coldcard, as the name suggests, is a cold storage Bitcoin wallet and some of the many advantages this device has over others is the sheer dedication to ensuring it is made and shipped in the most secure way possible.
Firstly, the device comes in a tamper evident bag, so you can tell if someone has tried to gain access to it, and the bag comes with a unique number used to verify that the device hasn't been swapped out.
The hardware and other sensitive parts are secured in place with epoxy so it's harder for someone to tamper with it, and the Coldcard is covered in a clear case so a user can verify that there's no custom hardware within.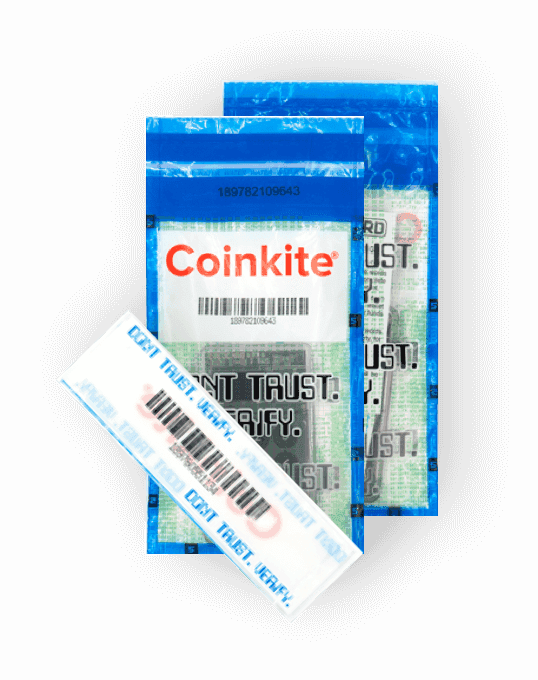 Serious security measures. Left shows the tamper evident bag the ColdCard ships in. Right is the ColdCard itself. Source: ColdCard
The Coldcard can also be used in an "air gap" mode, meaning it never has to connect to the internet or an internet connected device for it to work and uses an SD Card to make all transactions.
There are a whole host of other security features Coldcard has as well, but rest assured this is one secure wallet for any crypto funds. The Colcard costs around $230 not including shipping from Canada.
BitLox
BitLox is also one of the top crypto wallets in terms of security and another hardware wallet that is Bitcoin only.
Its cost is around $215 without shipping from Hong Kong and this credit card looking Bitcoin wallet is made from a single block of high-strength titanium and could possibly fit in a normal wallet. The team makes the claim that the wallet is "indestructible, shockproof and weatherproof".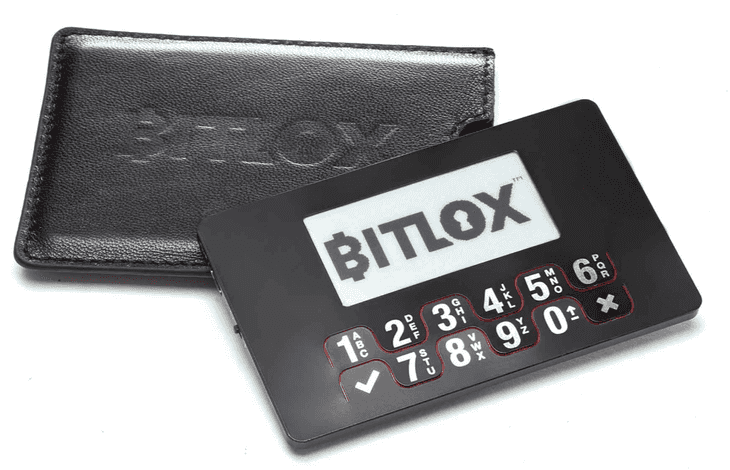 The BitLox also comes with a sweet leather case too! Source: BitLox
It is able to connect to the computer via a cable and even has Bluetooth for use with its mobile apps, but unlike the Coldcard it can't be used completely offline. To combat this, the BitLox is fully compatible with Tor and the secure operating system Tails.
It has some impressive security features like separate PINs to access the device, the wallet and to make transactions, the ability to create hidden crypto wallets and a PIN can even be set to completely wipe the BitLox in an emergency.
Other wallet options
Paper wallets
Paper wallets can be classified as hardware wallets but are generally considered a quasi-hot wallet as they are mostly generated using a website, but other options are available.
As the name suggests, this is literally a crypto wallet printed onto a piece of paper which shows both the public and private keys as a QR-code.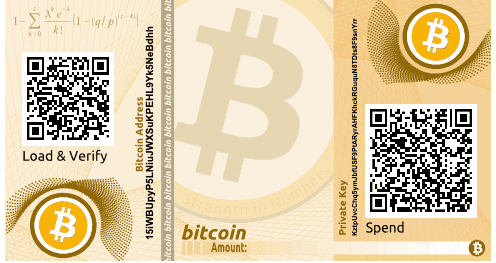 Picture of a paper wallet, left QR code loads it with crypto, the right code is to actually use it. Do not use this one in particular, as the private key is visible to everyone. Source: BitAddress
These are good if you have no other option or are looking to create one out of curiosity, other uses include giving some crypto assets as a gift. The risk of damage from theft, fire or water and better hardware wallets are the main reasons these wallets have gone out of fashion.
A popular site to create one is BitAddress which is open source if you're tech-savvy enough to check the code, be wary of other websites as they may have an exploit which steals all of your wallet.
Old phone
Hardware wallets can really be made from any old device and if you have access to an unused phone which is lying around, it can be turned into a dedicated cryptocurrency wallet using a mobile app.
The app AirGap is one which can create a digital wallet and uses two separate apps on different devices, one to store the cryptocurrency, and the other which has a verification process to signal and make an actual transaction on the blockchain using a QR code.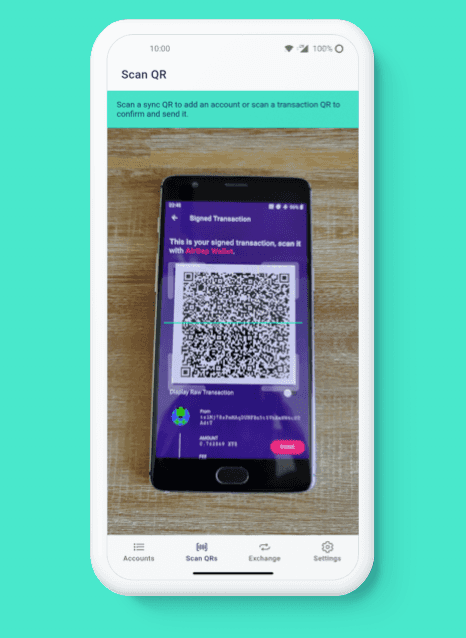 Process showing the internet connected phone (AirGap Wallet) logging the transaction actioned on the cold storage phone (AirGap Vault). Source: AirGap
The wallet supports the typical features, such as staking and swapping crypto, it also supports a pretty good range of cryptocurrencies although not as many as some others on this list.
Multi signature wallets
A multi signature wallet is a wallet which can require multiple parties to agree to move the cryptocurrency stored within it.
In the world of crypto wallets, these are quite a specialty and are only used in niche circumstances, but some people do use them as a way to better their security.
The wallet can be set up to require all parties with access to the wallet to agree to a transaction, or only some.
The most typical setups for these wallets include requiring 2 of 2 signatures for a transaction, with other popular setups being 1 of 2 or 2 of 3. Really any number combination can be set up.
An everyday use case for this wallet type would be if you had been investing in crypto for a while and had built up sizable holdings which you wanted to pass to your family in your will.
A multi-sig wallet could be set up between yourself, the executor of your will, and a member of your family in a 2 of 3 configuration.
Once you pass, the family member would request to withdraw the funds to something like a crypto exchange and the executor could agree to that transaction so long as the will conditions are met.
A similar setup could be done with two business partners or a married couple with a joint crypto wallet in a 2 of 2 configuration, requiring both parties to agree to move the assets within.
Whilst it's not recommended, a multi-sig could be set up by one person with approval given to wallets on multiple devices, although if one device is lost it could mean the crypto is stuck forever depending on the setup.
Conclusion
So, there you have it – our best crypto wallets in Australia. We hope this has helped and that you are now better equipped to make an informed decision about which wallet is right for you.
The latest crypto news delivered straight to your inbox.