back to Blog page
March Update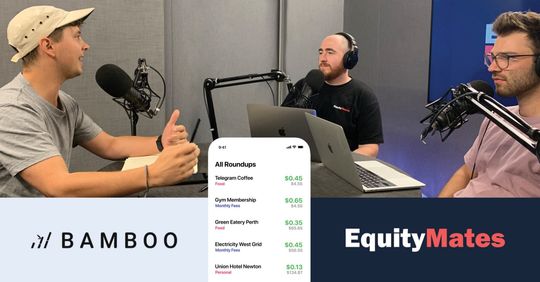 Bamboo had another strong month of growth and the team continues to expand. The major achievement for March was the integration for Self Managed Superannuation Funds (SMSF's) to use Bamboo. This is a modified service of Bamboo (no round-ups) which provides all SMSF's the easiest pathway to access, manage and report on digital currency investments.
Regarding asset performance, Bitcoin and Ethereum performed strongly for the month, with Gold and silver finished the month on par and slightly down respectively.
Results of our user survey in March indicated that 90.9% of our customers would be disappointed if they could no longer use the Bamboo App. This ongoing community support continues to inspire us to deliver more for our customers. Creating access for effortless investment in digital currencies remains our core focus.
🎤 Media appearances
We had a chat to the Equity Mates podcast about crypto during their 'crypto week'. The Equity Mates podcast mainly focuses on equity investing and decided to partner with us during their crypto deep-dive episodes. Our CEO Blake Cassidy and Nugget News founder Alex Saunders both recorded great episodes which you can listen to here (Available on the major podcast apps).
Our CEO Blake Cassidy was also on the 'Driven Young' podcast with Byron Dempsey. Check out the podcast here.
✏️ Survey
We value your feedback and if you would like to contribute to ensure we continue to make user-centric decisions, we would appreciate it if you could find a few minutes to complete our survey. This survey will help us decide which features to build next!
⚒️ ️What are we working on?
Our SMSF product is now live!
In April we will be working on bringing our SMSF product to market with marketing, website updates and media outreach
We are giving our brand a small refresh
Infrastructure upgrade to ensure that rapid growth and scale remains smooth.
Effortless yield/interest on your Bitcoin and Ethereum holdings.
We are focused on the BAM token integration
Finalising a capital raise to continue to support us on our rapid growth path
Implementation of notifications to improve communication when your payments fail.
Ability for all customers to use the Bamboo app regardless of whether your bank allows integration. This will provide a reduced service which will exclude round-ups, however, customers will still be able to complete regular investments and top-ups.
💡 Reminder
Finally, we would like to let you know you can download your trade report from the settings menu of the App (top right of the home screen). This will generate and send you a PDF of all your trade history in readiness for tax time.
You will also find in the setting menu a 'round-up meter' which will allow you to adjust the amount you round up till, before a payment is made. This will provide the ability to reduce your fees in percentage terms. There's a detailed description in January's update.
The latest crypto news delivered straight to your inbox.