back to Blog page
New App Updates: Round-ups & Payments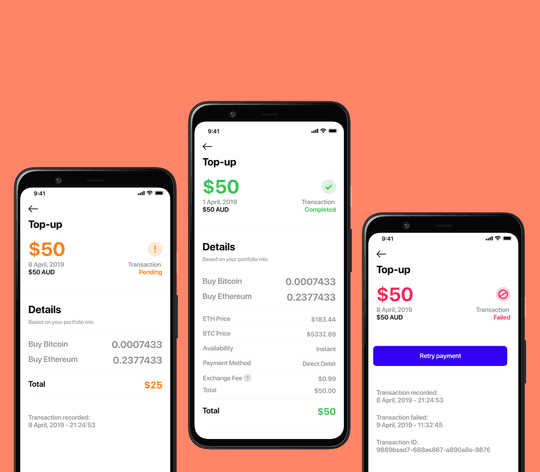 Giving you more visibility of your payments 🌱
We have always had different statuses for your round-ups. But the app has not been able to show it, until now. This change means that it will be easier for you to track your transactions as they weave their way through the old and sluggish banking system. It usually takes 2–3 business days for a transaction to go from end-to-end.
We now wait until the funds are cleared from your bank before we execute your investments. As a direct effect of this, some transactions will take a little longer than others, depending on what day of the week your round-up meter becomes full.
One of the benefits for you is making more data visible through the app. We do this to help you understand the different stages better. And to give more visibility of the way your money travels to reach us. This has always been our intent, and it helps us mitigate issues down the road as we are growing and facilitating more and more customers.
If you are using Top-ups they will still happen instantly if you have passed our certain criteria. Established customers of ours have all passed this criteria so you top-ups should be pretty much instant as has always been the way.
If you have any questions then please do reach out to us on support@getbamboo.io.
We understand that investing can be a little intimidating at times which is why our helpful team is always there to support you along your investment journey.
– With 🌱 from the Bamboo Team
The Bamboo app is now available for download on the iOS App Store.
If you have any feedback about your experience we would love to hear from you.
Keep up-to-date by following us on Medium, Twitter and Instagram.
The latest crypto news delivered straight to your inbox.