Australia's #1 Crypto Podcast is now streaming
Are you crypto curious? Do you hear NFT and think WTF? Have you heard about Bitcoin and Ethereum but unsure where to start?
Then this is the podcast for you! Every Monday join Tracey, Blake and Craig as they break down the basics, discuss new trends and share what is exciting them in the ever-changing, fast-paced world of cryptocurrencies.
Aussie Crypto Survey Finding touch points, More Regulation Buzz & Stripe fires Warning Shots at Visa & Master Card
The Aus Crypto Conference knows no bear market. Another exchange mishap and a tough week for Ethereum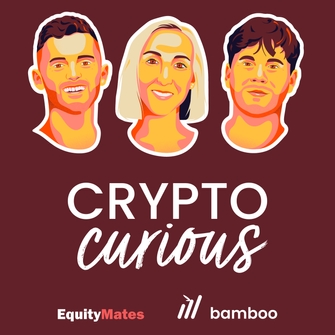 Luke McFarlane on WEB3 and how it will shape the future
The important Merge Day Chatter, Starbuck's BIG news and our tasty Short Sharp New Bites
We explain why its called SeptemBEAR, Merge Count Down, TicketMaster NFTs & Russia backflips on Crypto
Recent Volatility Explained, Is the NFT Market Bottoming Out and a look at UniSwap King of Decentralized Exchanges
About the hosts
Craig Jackson
Craig developed an interest in crypto after hearing about Bitcoin at soccer training in 2017. Since going down the rabbit hole, Craig has endured the ups and downs of crypto, now working in the industry as Head of Growth at Bamboo. Craig hopes to bring a sensible approach to crypto investing for new people starting out.
Tracey Plowman
Chief Operations Officer for cutting-edge cryptocurrency app, Bamboo; Tracey Plowman is among just a handful of women taking on executive roles in the digital assets space. Tracey is extremely motivated to encourage more women into technology and believes this can help to empower their investment choices and establish financial freedom. Tracey's interest in cryptocurrencies was sparked, while working as operations manager for a digital investment fund. This fostered her passion for cryptocurrencies and trading in this new asset class.
Blake Cassidy
Blake has a passion for technology and fell down the crypto rabbit hole while studying in Europe in 2015. He then started trading Bitcoins while living in China in 2015 and ever since then has been immersed in the sector. Blake is now the CEO of Bamboo which helps people take their first step into crypto currencies.
Our leading partner

The latest crypto news delivered straight to your inbox.